Offer of the month :
Kochsternstunden – from 7th February till 15. March 2020
Be a Restaurant Evaluator
and win 8 days in the City of Cape Town
in May 2020
Try and test our menus in our vaults restaurant and participate to the contest !
Reservation per phone on 0371/2611-0
An overview of ou restaurants und menus
Delicacies for food lovers.
Refreshingly light. Savoury Spoil yourself with Saxon delicacies
or national classics, newly defined with modern components.
With love of the region We promote local compagnies
and attach importance to certified products.
Because we think: Pleasure is not only in the preparation,
but also in the quality.
Our vault restaurant, the café of the castle and the
rustical restaurant Torwache are daily opened.
In good weather conditions, we recommend you our terrace
with a wonderful castle viewpoint
our vault restaurant with 95 seats as a unique Flair. The individual atmosphere, associated with fine food and exquisite wines, invites to weddings, banquets, company dinners, family celebrations and romantic moments.
Our cook Jens Herrmann wants to promote a regional products. He try to select his ingredients from local food companies of the Saxony region. We orientate our dishes seasonaly to give our guests different tastes during the whole year.
let yourself be carried away – our service staff will recommend you a nice wine, matching your taste, direct from our hotel wine house. We are pleased to let you discover the wine house at the entrance of tghe restaurant.
Opening hours:
The vault restaurant is everyday from 11.00 a.m. hour opened.
Our culinary offer:
All our current dishes in the vault restaurant
Menus:
We advise you different menus
You can book directly at hotel or as a coupon.
Our menus:
3-course menu "Genießermenü" from 26,00 € per person
4-course menu "Candle Light-Dinner" from 33,00 € per person
4-course menu "Candle Light-Dinner" with aperitif and wine from 46,00 €per person
If you want to make a gift, we can also send you a coupon per post.
The menus are changed every 14 days and are choose depending on the season
Coupons and tables can be ordered fulling this table reservations formular or also per mail.
We will try to seduce all your senses. Stay and enjoy our menus.
We are looking forward to your table reservation.
Our Genießermenü
Amuse gueule
***
Champignon-Rieslingsüppchen
mit Kräuterkrusteln
***
Gegrillte Jungschweinslende unter der Erdnusskruste
an Mandelbrokkoli
und gebackenen Kartoffelrosetten
***
Bananenparfait
auf Sauerkirschkompott

3-course-menu Genießermenü
from 26,00 € per person
Our
Candlelight-Dinner
Amuse gueule

***
Marinierter Garnelenspieß

auf Seealgensalat

***

Rote Bete Süppchen

mit gebackenen Gemüsestroh

***

Gefülltes Putenbruströllchen

an gerahmten Blattspinat
und Sesam-Gnocchi

***

Pana cotta
mit Himbeerconfit

4-course-menu Candle Light-Dinner
from 33,00 € per person
With the following wines
Aperitif
"Lillet Rosés"
Lillet Blanc, Bourbon Whiskey, Ginger Ale
***
Weißwein
Markgräfer Lindenhof
Gutedel Qualitätswein, trocken
Winzergenossenschaft Schliengen
***
Roséwein
Bardolino Chiaretto
D.O.C. Bardolino, trocken
***
Dessertwein
Gau-Algesheimer Rothenberg
Huxelrebe, Spätlese, lieblich
Weingut Theo Mayer, Rheinhessen
4-course-menu Candle Light-Dinner
with aperitif and wines
from 46,00 € pro Person
Book a table online
you can book your favorite table for a romantic dinner or for business or family events by clicking on the above "Book a table" online reservation form above.
If one day is online not available or if you have a special demand, you can still try to reach us at this number 0371/2611-181 oder -188 or send us a mail . We will try to find the best solution for you.
For important reservation from 10 persons, please fill in this formular, we will contact you afterward for more details.
Make a gift with our restaurant-coupons!

With our restaurant coupons you will make your friends and family definitly a really nice surprise! Either if you buy one "arrangement" coupon or a "restaurant" one, you can be sure you will make someone happy. "Amount" coupons are also online available.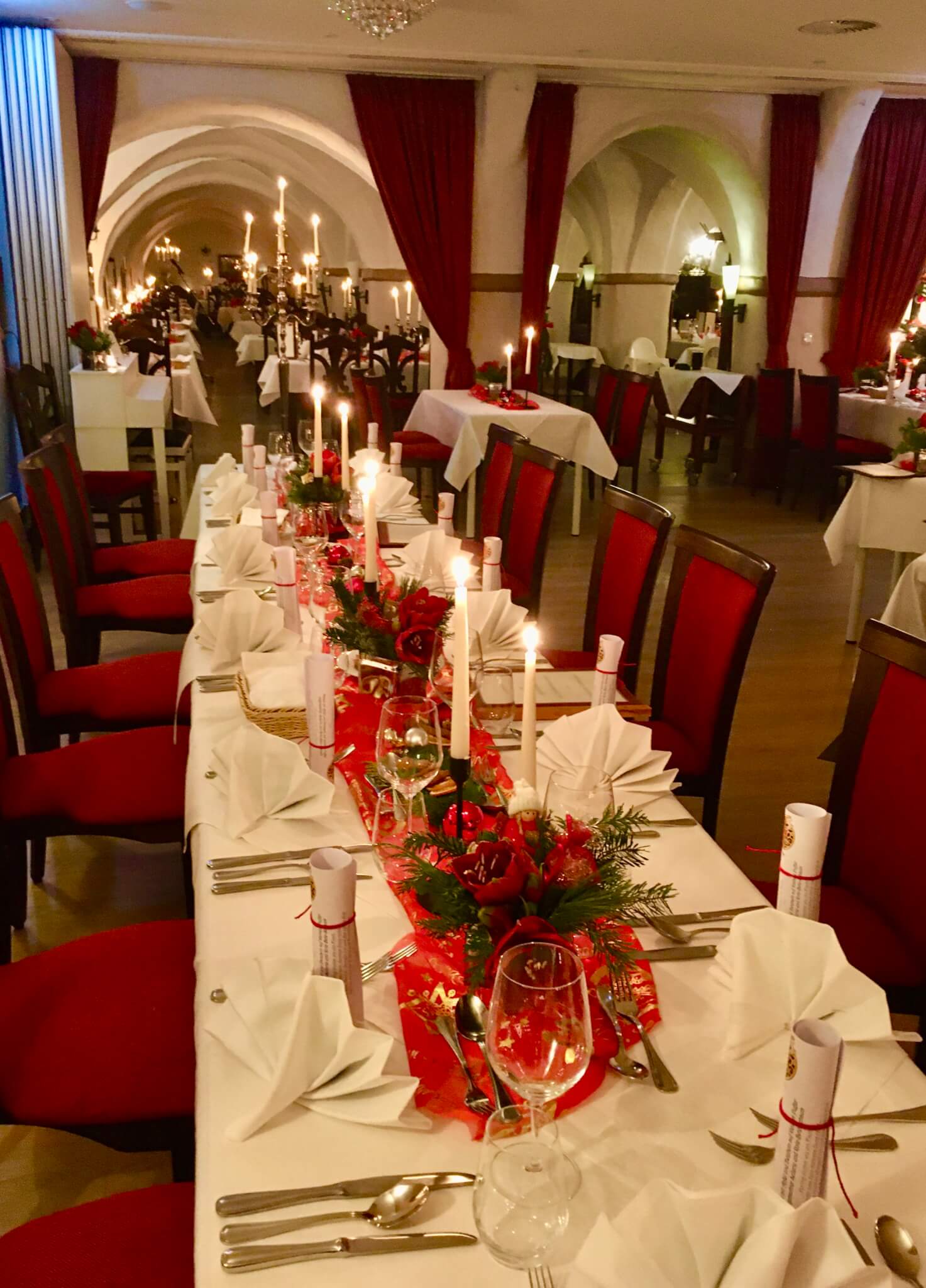 Das Schlosscafé, mit 40 Sitzplätze innen und 60 Sitzplätze auf der Schlosscafé-Terrasse, bietet sächsische Kuchen- und Kaffeespezialitäten und traditionell sehr schöne Eisbecher und Eisshakes. Vom Café mit und angrenzender Terrasse schaut man direkt auf die imposante Schlosssilhouette. Es dient unter anderem als Frühstücksrestaurant und bei schönem Wetter genießt man das Frühstück auf der Terrasse. Das Schloßcafé ist auch für kleinere Gesellschaften (bis 20 Personen) sehr beliebt.
Veranstaltungsbuchungen oder
Tischreservierungen können Sie bequem
per Email oder
per Telefon: 0371/2611-181 oder -188 vornehmen.
Frau Langer und Frau Krämer beraten Sie gern.
Opening hours:
Unser Schloßcafé öffnet täglich von 14.00 bis 18.00 Uhr
Unsere Gaststube "Torwache" mit 55 Sitzplätze innen und 60 Sitzplätze im Schlosshof ist besonders gemütlich und rustikal eingerichtet. Die gutbürgerliche Küche bietet pfiffiges aus Topf und Pfanne für jeden Geschmack. Hier verbindet sich Gemütlichkeit mit Tradition. Egal ob für die kleine Familienfeier oder einfach so zum Verweilen ist unsere Gaststube der passende Ort.
Unsere aktuelle Speisekarte – Gaststube"Torwache"
Unsere Torwache dient auch als Bühne für vielfältige Veranstaltungen. So sind Themenabende und vor allem Kabarettveranstaltungen sehr beliebt. Im Einklang mit dem Programm servieren wir Ihnen ein passendes Menü.
Seit Jahren tritt das Chemnitzer Kabarett "Sachsenmeyer" mit verschiedenen Programmen in der Torwache auf, aber auch Hans-Peter Körner oder die Damen von "Elfen-Pein" schätzen die passende Kulisse der Torwache im Areal des Wasserschlosses.
Hier sehen Sie den aktuellen Veranstaltungskalender!
Vor der Gaststube findet man die wohl schönste und sonnenreichste Terrasse des Areals. Mit viel Grün an den Wänden vermittelt der Außenbereich mediterranes Flair.
Öffnungszeiten – Ab 10. Februar:
Montag: geschlossen
Dienstag: 11 – 17 Uhr
Mittwoch: 11 – 17 Uhr
Donnerstag: 11 – 17 Uhr
Freitag: ab 11 Uhr
Samstag: ab 11 Uhr
Sonntag: 11 – 18 Uhr
Tischreservierungen online
Wir reservieren für Sie gerne Ihren persönlichen Lieblingstisch – ob für ein romantisches Dinner zu Zweit oder ein heiteres Fest im Freundes- und Familienkreis.
Sollte ein Tag im System online nicht verfügbar sein, wenden Sie sich bitte telefonisch unter 0371/2611-181 oder -188 oder per Email an uns.
Wir versuchen immer, eine Lösung zu finden.
Für größere Reservierungen ab 10 Personen senden Sie uns bitte dieses Formular, wir setzen uns dann mit Ihnen in Verbindung.
Verschenken Sie einen Gutschein!

Mit unseren Gutscheinen machen Sie Ihren Lieben garantiert eine große Freude! Ob Sie eines unserer Arrangements oder einen Restaurant-Gutschein wählen, eine Übernachtung mit Frühstück im Hotel. Natürlich können Sie auch einfach einen Wertgutschein verschenken.
This post is also available in: German